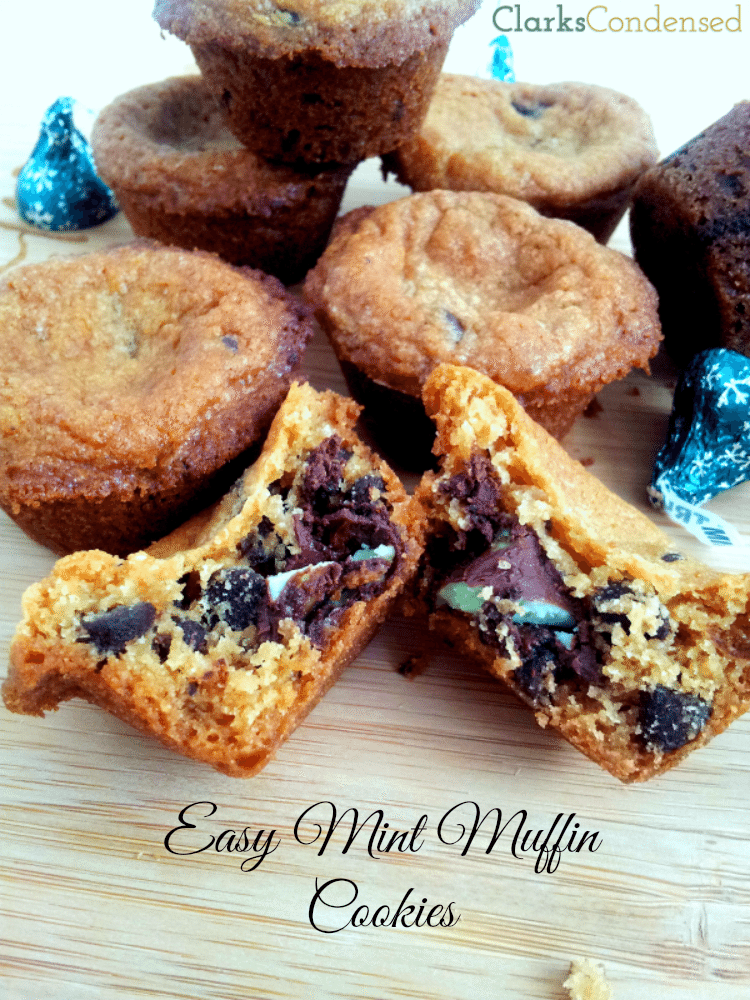 Hi everyone! I'm Katie, and I blog over at Clarks Condensed. I was so excited when Katie asked me if I wanted to participate in this virtual cookie exchange series! I absolutely love cookies, and always enjoy bringing my friends and family delicious treats for Christmas (and, of course, I don't mind receiving them either.)
However, life gets crazy, especially this time of year. I don't always have time to make a delicious cookie from scratch, but I also don't want to go to the store and buy premade cookies from the bakery to hand out. So, one of my favorite cookies takes very minimal time, are absolutely delicious, and I can almost guarantee will be the hit of any cookie exchange! My mom (if you read my blog, you'll know I talk about her a lot!) made a similar cookie all the time when I was living at home, so it only made sense to me to keep the tradition going!
Basically, all you need is some chocolate chip cookie dough and some mint Hershey Kisses. You can definitely use any cookie dough — including a homemade kind — but to simplify things even more, I used Pillsbury's Simply Chocolate Chip cookies. They can be found in just about any refrigerated section at the door. Because this dough comes in premade squares, I just threw them all in a bowl and let it soften up for about 15 minutes. Then, I remolded it all into one ball of cookie dough.
You'll need a mini muffin tin for this — I absolutely love this one I recently bought from Amazon for less than $10. This is a pretty opened ended recipe — you can make as many cookies as you have dough for!
Thanks for letting me share this recipe, Katie! And Happy Holidays to all of you — I'd love to have you come check out Clarks Condensed sometime!
Easy Mint Muffin Cookies
Ingredients
Your favorite chocolate chip cookie dough

enough for 15-20 cookies

15-20

Mint Hershey Kisses
Instructions
Preheat oven to 350 degrees.

Spray a mini muffin pan with cooking spray.

Take about a tablespoon of cookie dough and place a Hershey Kiss in the middle of it. Fold the sides over the dough to completely cover Hershey kiss.

Place each cookie dough piece in one of the muffin sections.

Bake for 12 to 18 minutes.

Let cool in tin for about 3 minutes, and then put cookies on a cooling rack until completely cooled.